Are Friends Essential When Starting a Business?
I was at an entrepreneur conference  yesterday and one of the panelist in the breakout session said something that literally made me sit straight up in my seat.  She said that she  could never understand why a person with no friends would start a business.
My first thought was "oh my God, how insensitive."  Being being an introvert myself and knowing that many introverts don't have a lot of friends, my second thought was "I hope that there are no introverts in the room that are taking that to heart. "  Maybe I was wrong, but my entire opinion of this person took a nose dive at that particular moment.
I'm not dedicating an entire blog post to her statement, but what I do want to say  is that having a large network helps tremendously when starting a business, but it should not stop anyone from pursuing a business if they don't have friends or an existing network.
Be Driven by Passion
Personally I am driven by passion and believe that goes very far in business and life in general.  When passion fuels you, people listen and your audience will appear and your network will grow.
Being authentic in your approach speaks volumes about who you are and what inspires you.  In the end, don't be discouraged because someone else's methods don't work for you.
photo credit: MV9Z5120 via photopin (license)
---
Charita H. Cadenhead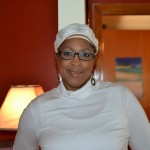 Charita H. Cadenhead, known as the Introvert Advocate is a Certified Life Coach and founder of Renew Refresh Reset Your Life.  She is the creator and editor of RenewRefreshReset.com motivational blog and The Introvert Advocate, all of which launched in 2014.  Her passions lie in activism for introverts, writing, empowering women, and encouraging people to embrace their strengths and use those strengths to live a powerfully fulfilling life
She has been featured on NuWireInvestor.com and has written for Smart Healthy Women. She has been a guest as well as a co-host on The Joe Lockett Show and as been a guest on Erica Glessing's 2014 Happiness Telesummit.  In addition, she's a licensed Realtor® in State of Alabama serving the Metro Birmingham market since 2006, Co-author of the book "Sell Your House Fast for the Right Price" and a blogger on ActiveRain Real Estate Network with over 90 featured post.