Writing is Still My Introvert Power
As a young introvert, I always found solace in writing.  I could express my thoughts on paper better than I could express them verbally.  I could hear a single word that struck me as interesting and within minutes, I'd have written a poem or limerick.
If I were having a bad day, I would express it in a poem or simply write down my thoughts in a makeshift diary or on a slip of paper.  The poems were reflective and jotting down my thoughts in a sort of journal like manner would allow me to return to it someday in hopes that I would see life far better than I did on that bad day.
In school, while I didn't care much for math or science, I adored any class that required me to read and write about what I had read, such as a book report.  Later there were requirements for essays and creative writing where I could live out a fantasy life with all of its colorful bells and whistles.
From middle to high school and college, writing was the one thing that was my saving grace. Even today, I still love to write as evidenced by my blogs, The Introvert Advocate and Renew Refresh Reset Your Life.  For me, writing is therapeutic.  It's what the doctor would order if I had to see one for writer's block (which I occasionally experience).
Fortunately for me, my love of writing eventually translated into my ability to verbally present information in a clear and concise way. And while information that I present may not be technical, the topics can still be complex and it's very important to me and many introverts like me, that the overriding message comes through clearly.
Writing is my introvert gift.  What is yours?
photo credit: paloetic via photopin cc

---
Charita H. Cadenhead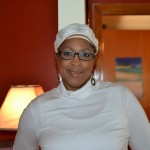 Charita is a Life Coach and founder of Renew Refresh Reset Your Life.  She is the creator and editor of RenewRefreshReset.com motivational blog and The Introvert Advocate, all of which launched in 2014.  Her passions lie in activism for introverts, writing, empowering women, coaching and encouraging people to embrace their strengths and use those strengths to live a powerfully fulfilling life
She has been featured on NuWireInvestor.com and has written for Smart Healthy Women. She has been a guest as well as a co-host on The Joe Lockett Show and as been a guest on Erica Glessing's 2014 Happiness Telesummit.  In addition, she's a licensed Realtor® in State of Alabama serving the Metro Birmingham market since 2006, Co-author of the book "Sell Your House Fast for the Right Price" and a blogger on ActiveRain Real Estate Network with over 90 featured post.
---